Products


SF6 Gas Purification and Filling Equipment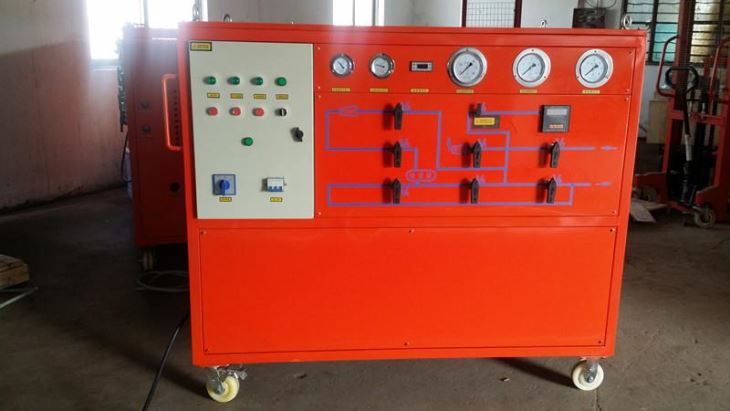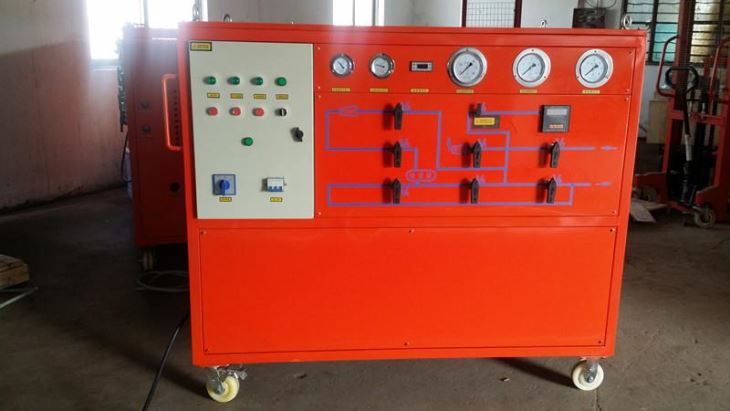 SF6 Gas Purification and Filling Equipment is suitable for SF6 electrical equipment and GIS combined electrical equipment.
The Main Component Configuration Parameters are as Follows
1. SF6 compressor: oil semi-enclosed compressor with high pressure
A: theoretical displacement: 10m3/h
B: maximum exhaust pressure: 2.5mpa
C: minimum inspiratory pressure: 53Kpa
D: maximum suction pressure: 0.35~ 0.8mpa
E: power: 3KW
F: power supply: 380V 50HZ
2. The vacuum system adopts two-stage rotary plate 2X-15
A: vacuum pump adopts air-cooled type, which can run for a long time
B: vacuum rate is 55m3/h
C: Final vacuum 0.06pa
D: power 3KW
3. Refrigeration system: domestic compressor
4. Filtration system (purification system: dual-stage filtration with vacuum activation and self-regeneration)
5. SF6 valve: ball valve DN15 SF6 dedicated
6. Pressure gauge, vacuum gauge: Shanghai Yichuan pressure gauge, Shanghai thermal even number display vacuum gauge.
Hot Tags: sf6 gas filling system sf6 vacuum device sf6 gas recovery purification machine, made in China, manufacturers, discount, cheap, SF6 Gas Recovery, sf6 gas vacuum pump, sf6 gas refilling device, sf6 gas filling equipment, sf6 gas recovery device, sf6 gas recovery system, sf6 gas recovery unit, sf6 gas recovery cart, sf6 gas recovery plant
Why Choose us?
1) Owning core technology and advanced equipment with our own Technology Dept.;
2) On-line operation guidance and professional technical support ability.
3) Good quality can be ensured by our Professional QC team with competitive price.
State Grid Corporation of China is one of our customer!
4) Certifications are available.
5) OEM Service Offered.
6) Design Service Offered.
7) Small trial order can be accepted to see our quality and service.
8) Standardization, effectiveness and timeliness of the pre-sale, in-sale and after sales service.
Our main products are CT PT Analyzer, Protection relay Tester, Transforer test equipment, Circuit Breaker Analyzer, Insulation Oil Tester, Cable Fault Locator, Series Resonant/Voltage-withstand Test Equipment, Secondary/Switch Test Equipment, Power Quality Analyzer, High Voltage Generator, High Voltage Capacitor, Testing Transformer and so on.
SF6 Gas Purification and Filling Equipment